Truc n°1. Personne ne peut reprendre les chansons de Beyoncé

Le premier candidat de téléréalité qui reprend Crazy In Love se fait sortir par les rouges du jury et les votes du public en moins de temps qu'il faut pour twerker. Peu d'artistes mainstream parviennent à incarner leur personnage musical de façon aussi aboutie, et sur la durée : il est extrêmement risqué de s'attaquer frontalement à du Céline Dion, du Madonna ou du Michael Jackson sans passer pour un baltringue. Si tu en doutes, mate ce duo Janelle Monáe / Kimbra : alors que la première assure la relève en envoyant du très très lourd, l'autre tire sur les cordes vocales comme une chanteuse de baloche. Cela dit, avec les bonnes chansons, il y a toujours matière à… The Weeknd s'en est sorti, en refroidissant Drunk In Love au point d'en faire une version complètement dépressive, loin de l'ode langoureuse que le morceau est à l'origine. Autre possibilité : faire des reprises sans musique ni choré, comme les Beyoncélogues de l'hilarante, mais pas que, Nina Millin.
Truc n°2. Beyoncé n'est pas une mijaurée
Quand Beyoncé ronronne sur l'air de « prends-moi toute », tu ne te dis pas « quelle traînée », mais simplement qu'elle n'est pas une sainte-nitouche. En effet, malgré ses prouesses vocales, son talent l'inscrit à un autre niveau : elle parvient à incarner une sensualité épanouie qui ne cède jamais à la facilité braillarde d'une Christina Aguilera, pour ne citer qu'elle, ni à la vulgarité agressive de Rihanna. Pour preuve, Glastonbury en 2011 : sa reprise de l'imparable The Beautiful Ones de Prince, enchaînée avec Sex On Fire (rien que le titre…) de Kings of Leon, dont je te dispense dans sa version originale (si tu insistes, c'est par là). Toujours sur le point (« on the verge of », comme on dit en anglais) d'en faire trop, elle garde le contrôle des deux chansons et les transcende en une célébration du désir dans ce qu'il a de plus cru mais aussi de plus commun : certes, l'amour physique est sans issue, ce qui n'empêche pas de s'aventurer dans les culs-de-sac de temps en temps.
Truc n°3. Beyoncé ne porte pas de perruques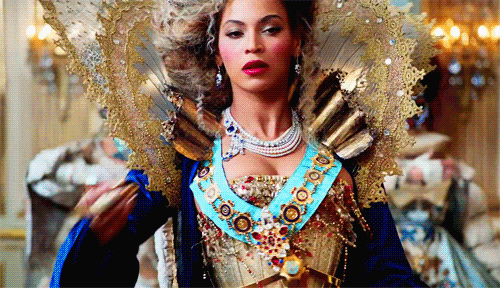 Enfin si. Mais pour faire joli, pas comme toutes ces petites pétasses qui changent de coloration à chaque nouveau single (et je ne te parle pas de Jessie J au crâne rasé pour les enfants malades). Entamée au tournant des années 10, cette tendance relève autant de la mode, de l'affirmation personnelle (je fais ce que je veux avec mes cheveux) que du marketing : la Katy Parry aux cheveux bleus correspond à sa période California Gurl, ladite perruque a été immolée dans un teaser vidéo au moment du lancement de l'album suivant. Ne serait-ce pas aussi un moyen pour les maisons de disques de s'assurer que les medias ne ressortent pas de vieilles photos, celles qui permettraient de se rendre compte qu'un menton a été redessiné ou un nez affiné entre deux disques ? Sia a poussé le procédé au maximum au début de l'été pour son nouvel album : ayant toujours refusé de devenir une starlette chantante, la jeune femme éloigne son visage des caméras. Elle s'est construit une image à partir de son carré blond platine. Même de dos, ou allongée sur un lit, on la reconnaît. Même si en fait, on n'est jamais vraiment sûr que ce soit bien elle qui chante…
Truc n°4. Beyoncé n'est pas noire
Enfin si. Mais non. Bien sûr, elle est mariée à Jay Z (pour l'instant ?), bien sûr elle traîne avec la crème du hip hop américain, mais elle fait de la musique urbaine comme d'autres font des cookies : pas de façon subversive, juste parce que ça fait partie de l'ADN de l'Amérique. A ses débuts, le r'n'b se remettait à peine du new jack, cette chose blanche faite par des noirs pour des blancs qui se prenaient pour des noirs (Ophélie Winter, si tu me lis…). Comme les petits gars de la Motown Stevie Wonder et Marvin Gaye bien avant elle, elle a eu la chance / le flair de choisir des chansons qui ont dépassé le cadre réducteur de ses racines afro-américaines pour en faire des hymnes vaguement intersectionnels. A ce titre, If I Were A Boy en est un des exemples les plus parlants, où elle pose la question du genre, voire même, l'ayant réenregistrée en espagnol, de l'origine ethnique. Je ne suis pas sûr que plus de 1% de sa fanbase réfléchisse à ça. Heureusement, certaines universités amerloques ont lancé les Beyoncé studies pour donner un peu de sens au déferlement d'hystérie, de memes et de gifs…
Truc n°5. Beyoncé ne sera jamais présidente des Etats-Unis
Sans préjuger de son avenir, je ne crois pas que Beyoncé elle-même pense avoir un destin politique. Si Ronald Reagan était le produit de son Amérique contemporaine, Beyoncé est plus que cela : une icône socioculturelle qui dépasse les frontières de son pays natal. Ayant frayé avec Shakira et avec le rappeur chinois Vanness Wu dès le début de sa carrière solo, elle appartient davantage à la jet set, comme Jackie Kennedy en son temps et Kate Moss aujourd'hui.
Elle a eu beau faire du vrai-faux play-back à l'investiture de Barack Obama, cela ne lui ouvre pas un avenir à la Maison Blanche : Ricky Martin avait chanté pour l'inauguration de George W. Bush en 2001 (hé ouais), il n'est pas devenu Secrétaire d'Etat pour autant.

Thing #6. Beyoncé is Prince and Björk at the same time
Funny enough, I never read anywhere (put a ring on it if I missed anything) that Drunk In Love sounds like a mashup of Prince's finest love songs, the luscious and sexually driven ones, and Björk's most famous vocalistic hooks : « in lo-o-ve » always reminds me of the extreme « sta-ate of emergency » that the Icelandic diva longs for when she's calling out for her lover. When Björk often insists on describing metaphorical feelings, Beyoncé brings them down to their most trivial expression: getting drunk with her lover is the best hangover, in the same manner that Prince described how life could be if (s)he was somebody's boyfriend, in the teeny-tiny little aspects of life, like picking up their clothes before they went out for example. On the other side, the dyptich Ghost / Haunted harks back to the industrial sounds and complex rhythmic structures from Post and Volta over lascivious melodies à la Love Symbol. Same goes for No Angel, more Prince than Björk.
Thing #7. Beyoncé is the ultimate post-disco diva


When Bey was born, disco was agonizing. Not in the sense that disco music wouldn't last a few more years through the eighties, of course. But she is definitely no Donna Summer, even though she sampled Love To Love You Baby on Naughty Girl in 2003, sucking out the disco vibe and only keeping Moroder's groove. From Madonna to Lady Gaga, almost every female popstar paid homage to disco mythology (of course they should) but Beyoncé never fell for the nostalgic side. So far. Some of her most disco-ish songs (handclaps, whirling background vocals and booty shakes…) decidedly avoid the parody trap: the delicious Work It Out (2002) is more a tinaturneresque digital funk track thanks to the Neptunes production while Blow (2013) screams disco but never goes there, bouncing back and forth between Pharrell's r'n'b gimmicks and Timbaland's hip hop beatbox.
Thing #8. Beyoncé is no one but Beyoncé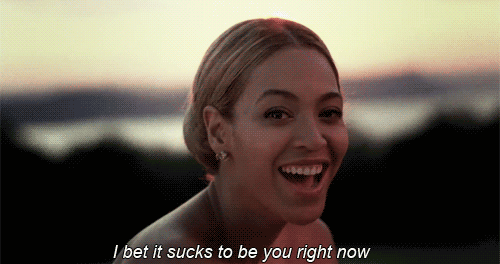 I mean, she can't pretend to be someone else. Cadillac Records, the movie, was terrible. Her playing Etta James was an embarassment. First, she's not that good as an actress (neither are Madonna and Diana Ross nor was Whitney Houston, so it's not a shame for a pop singer). Have really the movie producers believed that viewers would actually go watch Etta James' biopic, and not THE superstar, who sells more records in one week than Etta in her whole life, mimicking the highs and lows of a coloured but flawed but talented but striving rhythm & blues singer from the 60s? Same goes for Dreamgirls, except that Jennifer Hudson stole it with just one number, on top of that. The only movie she was OK in? Obviously, Austin Power's Goldmember, in which she portrayed an undercover spy / singer. Call that acting if you want.
Thing #9. Beyoncé is the first female pop star in the blooming post-gender world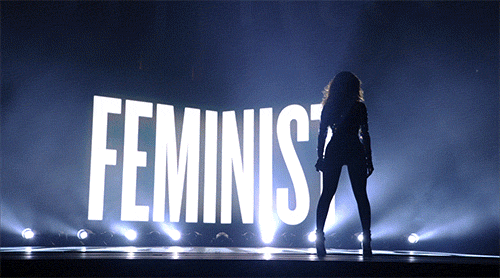 I was at the barbershop the other day and the big screen in the back was playing music videos. Pretty Hurts came and I could hardly hear the music. So I watched it almost as a silent short movie. In 2014, you can't be a female performer and keep on pretending to have a naturally flawless physique, unless you're lying to yourself more than to your audience. Beyoncé appears as a beauty pageant contestant, the epitome of would-be pulchritude, struggling with the downsides of it: eating cotton pads and making herself throw up to stay thin, being second best, jealousy, rivalry and defeat, the shallowness of it all. Yet, she manages to tell more that decry superficiality: at the end, she is in tears and still keeps her humanely luminous aura, which reaches far beyond's little girls broken dreams. She tells everyone's need to hope for better. And it brings us back to the spoken part of the song, when she answers Harvey Keitel's question: « What is your aspiration is life? – (thinking) To be happy ». Pharrell couldn't sing it better.
Thing #10. Beyoncé is the only Destiny's Child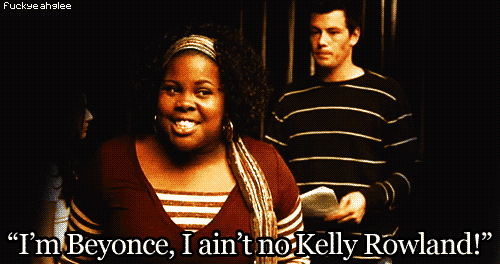 Forget LaTavia Roberson. Forget LeToya Luckett. Forget Farrah Franklin. Forget Michelle Williams (that's hard to write, I used to looooooooove her vocal parts, especially on Soldier, but since she lost her shit over Jesus, I just C.A.N.T. anymore). Forget Kelly Rowland (never liked her anyway). Forget Bills Bills Bills and Bootylicious. Forget even Independant Women, it's just a Beyoncé classic, one that she recorded with her high school musical girlfriends.
You can keep Say My Name, because the only name you're gonna remember is Beyoncé's.
(gifs found on Tumblr)