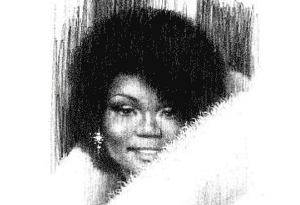 J'essaie de la faire courte, aujourd'hui… I'm Coming Home, un bon gros blues qui tache.
Ruby Wilson est une copine de BB King, vedette de son club à Memphis.
Elle chante la chanson sur laquelle démarre le délicieux film Cookie's Fortune, de Robert Altman. Scène de club, poisseuse à souhait, l'Amérique dans toute sa crasse sociale et culturelle. Vive le soleil, mais ce n'est pas pour rien qu'on a inventé la climatisation…
I'm Coming Home a été composée par Dave Stewart, moitié pileuse des pénibles Eurythmics, comme toute la BO de ce film. Franchement pas terrible, ces instrus new age blues. Il a la guitare qui le démange vraiment trop, parfois, ce monsieur. On a aussi Bono et The Edge en invités sur deux morceaux, et c'est même pas la peine d'en parler.
Reste à évoquer la troublante ressemblance entre ce titre disponible en écoute et I'm Going Home du grand, très très grand, Marvin Gaye. Outre le titre qui nous permet de réviser en musique nos leçons de vocabulaire d'anglais (to go ≠ to come), on notera de grandes similitudes dans la mélodie du refrain aussi. Après, la comparaison s'arrête là, Marvin chante moins avec ses seins que Ruby Wilson, mais ça n'en est pas moins sexy pour autant.

Real blues mood today. With Ruby Wilson, a girlfriend of internationally acclaimed BB King. She stars in one of his clubs in Memphis.
This song opens the delicious Cookie's Fortune, by Robert Altman. A club sequence, hot and dirty. Not because of the singer (she sweats beautifully, and that's what cinema is about : to transform body secretions into metaphorical close-ups), but because the American South has always been too hot and dirty.
Aren't Coca Cola headquarters based in Atlanta ? You'd better live in a hot place if you want to sell more of your refreshing soda…
So now, what's the point with Marvin Gaye ? Listen again to song called I'm Going Home : lyrically and musically, they have a lot in common. Maybe Dave Stewart was a bit uninspired by himself when he wrote the song, or he pays a secret homage to Marvin. Whose falsetto was sometimes higher than Ruby Wilson's roar. But never less sexy.

Ruby Wilson (Cookie's Fortune OST / BOF) – I'm Coming Home