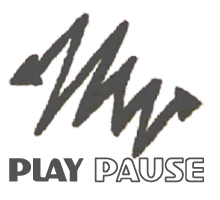 Je se souviens d'avoir commencé Playpause en 2004.
Je se souviens que Playpause a déjà changé trois fois de plateforme et de design, depuis sa création.
Je se souviens que Playpause s'est mis sur pause en 2006 et 2007.
Je se souviens qu'il y avait des rubriques, avant, sur Playpause : FACES, TRENDS et VOICES.
Je se souviens que la rubrique FEATURING n'a connu qu'un seul invité. Pour l'instant.
Je se souviens que la rubrique Bonus Traque servait de pense-bête, de bouche-trou, de fourre-tout.
Je se souviens que j'avais parfois des commentaires intéressants. Mais je les ai perdus dans l'opération de récupération de mes archives. Alors je me contenterai d'en garder le souvenir plutôt que d'en garder une trace.
Je se souviens que j'ai l'idée de reprendre d'anciens billets pour corriger les liens, compléter ma pensée et remettre en ligne les morceaux, comme Todd Terje ou Pilooski « re-éditent » des vieux titres pour les remettre au goût du jour. Tu se souviendras de revenir, lecteur, et tu ne seras pas déçu.
Je se souviens de ma petite voisine Anne, quand j'étais enfant, qui m'a dit un jour « j'aimerais se marier avec toi ». Et que ce souvenir fait écho à l'expression « tu se moques » « je s'en fiche », que l'on doit à Alex via Juice.
Je se souviens de mon premier souvenir, le jour où on m'a présenté ma petite sœur, qui venait de naître.
Je se souviens que je me dis toujours que c'est facile d'écrire un billet en pompant le « Je me souviens » de Perec.

I'm remember starting Playpause in 2004.
I'm remember spending hours and hours on my blog, and promising myself not to do it again.
I'm remember that I wanted to restart Playpause several times. But I didn't because of this specific promise.
I'm remember there used to be categories on Playpause (FACES, TRENDS and VOICES) and that posts were numbered as chapters.
I'm remember that the category named FEATURING was only used once. But I'm going to get more and more guests.
I'm remember making silly jokes with post titles in the Bonus Traque category, and thinking that my English readers wouldn't get any of them.
I'm remember receiving nice comments. I lost them. So I'll just keep on remembering them.
I'm remember I recently got the idea of updating and enhancing some archived posts and calling them « re-edits », like Todd Terje and Pilooski do with good old tracks.
I'm remember that « Je me souviens » si the official motto of Québec.
I'm remember English classes during which the teacher would repeat endlesssly that you don't say « I'm remember » nor « I'm agree » in proper English. The first mistake comes from the fact that some French verbs are « pronominal » and that « I remember » is said « Je me souviens ». The second mistake comes from a bad translation of « Je suis d'accord », as if « agree » was a predicative adjective: I am happy, I am agree, I am sorry… Many French people don't care about English syntax.
I'm remember being gobsmacked when I heard this cover of George Michael's Cowboys and Angels, a few months ago. I'm remember listening to the original song so many times that I knew it by heart, note after note, back in 1991. Ah, this piano intro. Gave me shivers for such a long time. And I love the way the cover turned out so different, so funky and almost caribbean, with Randolph Matthews' vocals losing all desperation that was in George Michael's torchsong interpretation, but adding some straightforward innocence and confidence. Good songs never die.

Season & Sygeaire feat. Randolph Mattews – Cowboys and Angels