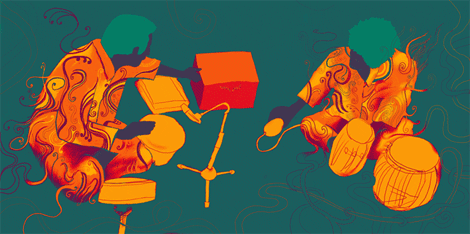 (De temps en temps, playpause reçoit un invité, qui choisit un morceau et qui répond au questionnaire.)
Quel est ton instrument préféré ?
Les tablas.
Si tu étais un titre de chanson, comment t'appellerais-tu ?
Ma vie c'est de la merde et je l'échangerais bien contre celle du roi du Maroc (Les Robins des Bois)
A quel moment préfères-tu écouter de la musique ?
La musique accompagne tous mes pas, elle est toujours présente. Même les pires moments ont une musique.
Quel est le musicien réel ou imaginaire que tu aurais aimé être ?
Zakir Hussein.
Quel est le comble de la mauvaise musique ?
Allume la télé et tu vas en écouter.
Quelle musique voudrais-tu que l'on joue à ton enterrement ?
Je ne sais pas.
Asa-Chang & Junray
Hana
Décris cette chanson en trois mots.
Les fleurs fleurissent. C'est la signification du titre en japonais.

(Once in a while, playpause features a friendly guest, who brings in a track and answers the questionnaire.)
What is your favorite instrument?
Tablas.
If you were a song title, what would you be called?
My life sucks and I'd rather swap it for the king of Marrocco's life. (Les Robins des Bois)
At what moment do you prefer to listen to music?
Music is with my every step, it is always there. Even the worst moments have their music.
Which real or imaginary musician would you like to be?
Zakir Hussein.
What is the top of bad music?
Turn on the TV and you will listen to it.
What music would you lie to be played at your funeral?
I don't know.
Asa-Chang & Junray
Hana
Describe this song in three words.
Flowers are flowering. It's the translation from japanese.

Asa-Chang & Junray – Hana