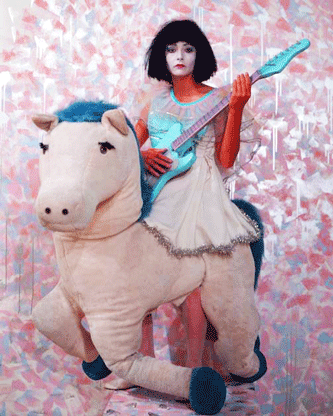 2009, année du neuf ? C'est que tout le monde s'amuse à se dire, même si l'année n'a pas vraiment commencé sous les meilleurs auspices (Fuck la crise !)…
Il n'en demeure pas moins que Playpause renaît de ses cendres, plus tout à fait chaudes. Nouveau layout (work in progress, tout est à réinventer), nouvelles fonctionalités (comme les liens de partage qui apparaissent en marge des billets, pour y accéder, clique sur le titre du post, et tu verras…), nouvelle musique.
Comme on (re)commence en douceur, je te poste simplement une petite musique d'ascenseur interprétée par la Circassienne internationale…

Let's get the party (re)started. I had tried to resume playpausing last year, but, you know what it's like, one always makes promises to themselves that are forgotten quite easily…
In 2009, I have even more to write, even more music to share, and even more links to provide (check the sharing buttons on the right side of the posts) than ever, and, like Samantha Fox, nothing's gonna stop me now.
And it's not because Britney's lip sync coordinator is threatening her to walk away that I have completely lost my interest in this century's most incredible popstar, the tabloidizer, the phoenix of music charts, the queen of make believe, the lady who gets cut in half but never dies, the ringleader of cheerleaders . As a proof to this, listen to the lovely remix of her 2007 big hit, Gimme More.
They called it « jazz »… Doesn't sound too jazzy to me, but, see, in 2009, everything has changed!

Britney Spears – Gimme More (Jazz Mix)
(Original picture taken from www.marnieweber.com)