RADIOLALA avait ses adeptes, surtout en Italie (va comprendre…). Mais je n'aime pas me répéter et les formules qui marchent finissent toujours par être usantes. Alors voici une nouvelle sélection musicale pour entrer en joie et en douceur dans l'hiver, avec des chansons un peu débiles ou un peu chouettes qui parlent de musique. C'est tout con comme concept, je sais.
Et puis maintenant, en plus, je baigne dedans jour (et presque nuit), avec mon nouveau boulot qui se trouve dans une major (je résume et je ne vais pas m'étaler ici). Alors j'ai un peu moins le courage de mettre à jour Playpause quand je rentre le soir, escuse-moi, ami lecteur… Mais je ne lâche pas l'affaire ! Allez, musique!

Back with a new selection: the SWEET MUSIC programme. (Just to celebrate my new job as a major company insider…)
Enjoy and don't be sad, I'll probably cook a new RADIOLALA sometime.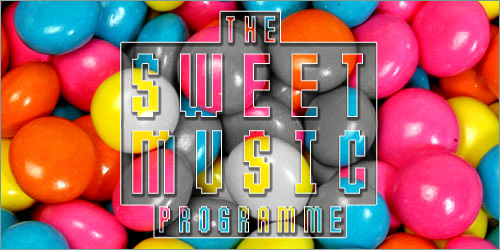 1 ▪ « Music Hall »▪ Roger Roger
2 ▪ « I Am Music »▪ Common featuring Jill Scott
3 ▪ « Music »▪ Leela James
4 ▪ « I Am Music » ▪ Timbaland & Magoo featuring Aaliyah & Static (from Playa)
5 ▪ « 

Music Selector Is The Soul Reflector

 » ▪ Deee-Lite
6 ▪ « Let The Music Use You » ▪ The Writers
« We Got The Muzik » Sebastian Ingrosso & John Dahlback
7 ▪ « Pop Muzik ('89 Reshuffle) » ▪ M
8 ▪ « El Musica (Original Mix) » ▪ Osunlade featuring KB
9 ▪ « Music » ▪ Sertab Erener
10 ▪ « You And The Night And The Music » ▪ Mark Levine & The Latin Tinge
11 ▪ « Music Like Dirt » The Lyrics
12 ▪ « That's What I Call Sweet Music » Jean Goldkette & His Orchestra
Also on Youtube
Also on Deezer

(Top and sidebar images taken from Groovy Candies)