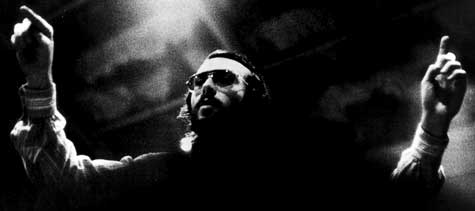 Remember :
Serge Gainsbourg, Melody Nelson & Elisa.
Maurice Béjart & Pierre Henry, Messe pour le temps présent.
Barbara, L'Aigle noir.
Prince, Purple Rain.
Madonna, Don't Tell Me.
Mais aussi : Kronos Quartet, Jaco Pastorius, Roberta Flack, Brandford Marsalis, Herbie Hancock, Joni Mitchell, Stéphane Grappelli, Flora Purim… et la grande Petula Clark.
Michel Colombier, le Maurice Jarre des nuits d'Antenne 2, le Jean-Jacques Goldman des violons sixties, est mort. Envolées lyriques en veux-tu en voilà… C'est David Whitaker, rival générationnel, qui doit être soulagé.
Juste en dessous, l'écoute du jour est extraite de l'album Wings, sa « symphonie pop », avec Herb Alpert au chant.
Autre coup dur, ODB (Ol' Dirty Bastard, pour les néophytes) du Wu-Tang Clan est mort aussi. Il s'est écroulé en studio à 36 ans. Accablées de chagrin, les deux morues intersidérales qui lui doivent beaucoup, Mariah Carey (Fantasy) et Kelis (Got Your Money), lui rendent hommage : pleurer, c'est maigrir un peu.

Michel Colombier is dead. Innovative arranger and composer. Cheesy (will Pharrell Williams sound cheesy too, in 40 years?). French pop and international artists owe him a lot (see the list above).
Featuring Herb Alpert, today's mp3 is taken from his solo work, Wings, sometimes referred to as a « pop symphony » or a « rock oratorio »… My my !
Wu-Tang Clan's ODB has passed away too (bad november!).
Plump tarts and ODB collaborators, Mariah Carey (Fantasy) and Kelis (Got Your Money), are in thorough mourn. Cry, ladies: while you weep, you're not thinking of your diet.

Michel Colombier feat. Herb Alpert – All in All