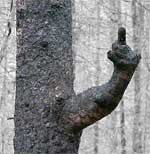 Drôle de dimanche. J'avais projeté d'aller voir Tropical Malady, ce week-end, ou Nobody Knows (mais en général, les films asiatiques, je les rate…), ou Les Indestructibles et, finalement, j'ai passé (calcul à la louche) une quarantaine d'heures devant mon écran pour du travail qui paie ma connexion Internet. Autant dire que, avec 10 pouces dans l'oeil droit, 10 pouces dans l'oeil gauche, j'ai ce soir les yeux en ruine.
Donc, j'ai à peine eu le temps de penser à mon ptiblog. Tout de même, je voulais le réanimer un peu ce soir, avant d'aller me coucher et avant que tu attaques ta semaine (ou : si tu me lis lundi matin en arrivant au bureau, « bon courage », ou si tu me lis en rentrant chez toi lundi soir, « youpi, plus que 4 jours avant le week-end »).
Et voilà que, juste au moment où j'ouvre mes dossiers pour préparer ce post, je reçois le commentaire du jeune Romain. Pas content du tout, ce cher lecteur, que j'allume son Michael favori.
Bon, alors deux choses :
– d'une, je suis ici chez moi (= sur ce blog), donc « je fais ce que je veux », comme le disait Alain Chabat dans Gazon Maudit.
– de deux, moi aussi, j'écoute plein de musique de merde, mais quand on me dit que c'est de la merde, je ferme ma gueule, je remets le casque de mon iPod sur mes oreilles, et je me fais mon kif tout seul.
Alors, à propos de Wacko Jacko, je rajoute ceci :
– Lorsqu'il a sorti son deuxième Best of, Number Ones, il a gentiment composé l'inédit One More Chance. Ironique, mais la supplique n'a pas marché, personne ne lui a accordé cette chance, surtout pas les programmateurs radio. (ricanements du public)
– Il a intitulé son dernier single en date, extrait du bô coffret sur lequel je me suis acharné, dans un élan de second degré, Cheater (= Tricheur). Voilà: il le dit lui-même, je n'ai plus rien à écrire sur le sujet, j'arrête de tirer sur l'ambulance.
Cela dit, j'introduis la sélection du dimanche, inspirée par l'enthousiasme d'un autre commentaire (beaucoup plus amical) suite à ma notule sur la grande Me'shell. C'est un remix par le grand Lil' Louis (French Kiss, I Called U…). C'est bien.
[EDIT] Les commentaires ont été perdus lors d'une migration précédente, donc ce post n'a plus vraiment de sens.

Dear English-speaking reader,
Tonight's post is a mere reaction to the comment I received after the Michael Jackson knockdown (see below). I feel too lazy now to translate the whole thing. Try and click here to read the automatic translation operated by my G5, on behalf of Systran. I find it very funny, but it makes no sense, sometimes nonsense regarding my actual thoughts in French. Sorry about that.
But, please, come back: tomorrow night, I'm going to see Jill Scott live and I'm pretty sure I'll have plenty of nice things to write about her.
With absolutely no link to what reads above, my Sunday selection is a nod to another (sweet) comment about what I wrote on Me'shell. Lil' Louis remix, Lil' Louis rules. Good night.
[EDIT] Comments have been lost, so this post makes no sense anymore.

Me'shell Ndegeocello – If That's Your Boyfriend (He Wasn't Last Night) (Mad Sex mix extended)

Funny of Sunday. I had projected to go to see Tropical Malady, this weekend, or Nobody Knows (but in general, the Asian films, I miss them…), or Indestructibles and finally, I passed (calculation with the ladle) forty hours in front of my screen for work which pays my connection Internet. As much to say that, with 10 inches in the right eye, 10 inches in the left eye, I have this evening the eyes in ruin.
Therefore, I hardly had time to think of my ptiblog. All the same, I wanted to reanimate it a little this evening, before going to lay down me and before you tackle your week (or: if you read me Monday morning while arriving at the office, « good courage », or if you read me while returning at home Monday evening, « youpi, more than 4 days before the weekend »).
And here that, just at the time when I open my files to prepare this post, I receive the comment of the Romain young person. Not content with the whole, this dear reader, whom I light his Michael favourite. Good, then two things:
– of one, I am here at home (= on this blog), therefore « I do what I want », as Alain Chabat in Which cursed Gazon said it.
– of two, me also, I listen full with music of shit, but when it is said to me that it is shit, I close my mouth, I give the helmet of my iPod on my ears, and I am made my all alone kif.
Then, in connection with Wacko Jacko, I add this:
– When it left its second Best of Number Ones, it nicely composed the new One more chance. Ironic, but the petition went, nobody did not grant this chance to him, especially not the radio operator programmers (sniggers of the public)
– It entitled its individual last goes back to it, extracted the bô box on which I baited myself, in a dash of second degree, Cheater (= Tricheur). Here: it says it itself, I do not have more anything to write on the subject, I stop drawing on the ambulance.
However, I introduce the selection of Sunday, inspired by the ehtusiasm of another comment (much friendlier) following my notule on large Me' Shell. It is a remix by large Lil' Louis (French Kiss, I Called U…). It is well.