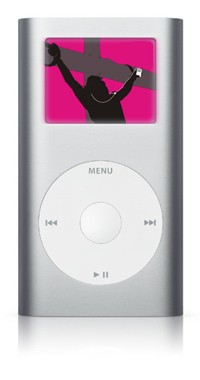 Alors, voilà, c'est ça le web : des idées qui tournent.
Choucrave par lovely ..:: (raindrops) ::.. aux mémoires d'un infirmier, qui n'est sans doute pas le seul à publier ce genre de liste sur un blog, le test du first ten random mp3s.
La règle est simple (et mes commentaires aussi) :
1. Lance ton lecteur de musique préféré. (iPod mini)
2. Charge la totalité de ta collection de mp3 dessus. (496 morceaux, et j'adore, 1,5 jours : je n'aurai jamais assez de batterie pour tout écouter d'affilée.)
3. Appuie sur la touche random. (…)
4. Avoue la liste des dix premiers morceaux qui apparaîssent (avec l'interprète), tant pis si c'est la honte. (et je m'en sors vachement bien !)
5. Si tu tombes sur le même artiste deux fois, tu peux zapper la seconde (ou troisième, ou…) occurence. Tu n'es pas obligé néammoins. (j'ai basé un autre Marvin Gaye du même album, arrivé en 10ème position.)
1. STEM (daimyo asobi hen) 4:23 椎名林檎 (Shiina Ringo)
2. Trick Me 3:26 Kelis
3. All Of Me 5:24 Dinah Washington
4. Come Live With Me Angel 6:30 Marvin Gaye
5. Ferme vite les paupières 1:59 Béatrice Dalle & Romain Duris
6. Crickets sing for Anamaria 2:09 Astrud Gilberto & Marcos Valle
7. Dans Le Club 3:57 TTC
8. When angels speak of love 4:35 Sun Ra
9. I'm Not Afraid 3:25 Jill Scott
10. Star/Pointro 7:36 The Roots
Super chouette, archi avouable ! J'assume tout à 200%, je te la conseille, comme compile de trajet de métro, ou un truc comme ça, le matin.
Et pourtant des grosses daubes honteuses, j'en ai quelques unes dans l'iPod. Merci Steve Jobs, merci tout le monde chez Apple, vous sauvez mon honneur de critique musical.
Pour conclure, la perle qui fait briller cette liste : Ferme vite les paupières. Extrait de la bande originale de l'également super recommandable 17 fois Cécile Cassard, avec deux chanteurs pour l'occasion, Béatrice Dalle et Romain Duris. Les plus belles scènes du film sont entre leurs deux personnages, dont une autre chantée : Romain Duris y interprète Lola du film éponyme de Jacques Demy et créée par Anouk Aimée… Vertigineux.

Probably not completely new on the web and among blogworld, here are my first own first ten random mp3s .
The rules of this test came to me through friendly ..:: (raindrops) ::.. who got the idea on les mémoires d'un infirmier.
1. Open your favorite audio player. (iPod mini)
2. Load your complete mp3 library. (496 tracks, equivalent to 1,5 days : how can I have enough power to listen to it all?)
3. Select random play. (…)
4. Confess the first ten tracks list (and the performers), no matter how bad it makes you feel. (I love my iPod!)
5. If you get the same artist twice (or more), you may skip the track. Or not. (I got a second Marvin gaye, from the same album.)
1. STEM (daimyo asobi hen) 4:23 椎名林檎 (Shiina Ringo)
2. Trick Me 3:26 Kelis
3. All Of Me 5:24 Dinah Washington
4. Come Live With Me Angel 6:30 Marvin Gaye
5. Ferme vite les paupières 1:59 Béatrice Dalle & Romain Duris
6. Crickets sing for Anamaria 2:09 Astrud Gilberto & Marcos Valle
7. Dans Le Club 3:57 TTC
8. When angels speak of love 4:35 Sun Ra
9. I'm Not Afraid 3:25 Jill Scott
10. Star/Pointro 7:36 The Roots
(applause)
Absolutely no shame, recommended to early commuters and other morning activities.
Shiina Ringo was mentioned by your favorite blog here.
For me, time to go to bed now.
For you, time to listen to the lullaby Ferme vite les paupières, by French actors Béatrice Dalle and Romain Duris. Taken from Chrisophe Honoré's 17 fois Cécile Cassard. Haunting and mysterious. The movie best scenes are between Dalle's and Duris' characters, one in which he sings Lola originally performed by Anouk Aimée in Jacques Demy's merveilleux movie.
Close your eyelids quickly…
Next time, I'm sure I'm getting ten nasty remixes.

Béatrice Dalle & Romain Duris – Ferme vite les paupières