🤗

BIENVENUE EN

2️⃣1️⃣2️⃣2️⃣
Ca te fait pas ça, à toi, cette sensation de décalage, cette vision de science-fiction, quand tu regardes une scène avec plein de gens qui s'embrassent, qui se frottent les unes et les uns aux autres dans un élan sans barrière, un mariage pré-2020, un but, un festival, une manif contre les fachos, une gay pride des grandes années ?
Ou au contraire, ce pincement désabusé devant une dystopie d'il y a 10 ou 20 ans, quand tu te rends compte que le pire décrit à l'époque n'est qu'une cybereffluve dans ton quotidien, un like, la tendance du jour, le KPI sur une Google slide ?
A quel moment a-t-on basculé dans l'hyper-après ?
Hum.
Le corona nous servira au moins de marqueur…  Ou la guerre, on ne sait pas.
Qui aura envie de se souvenir de cette année passée autrement que comme un long purgatoire avant… avant quoi, d'ailleurs ? La purge ?
Je n'ai eu ni l'envie ni le temps ni le besoin ni rien de faire de 2021. Pas vraiment de best of, pas non plus un bilan, comme un entre-deux. Rassure-toi : l'espoir n'est jamais perdu car les petits ruisseaux font les grandes rivières, comme le chantait la grande Jeanne…
🤮
SOCIAL OVERLOAD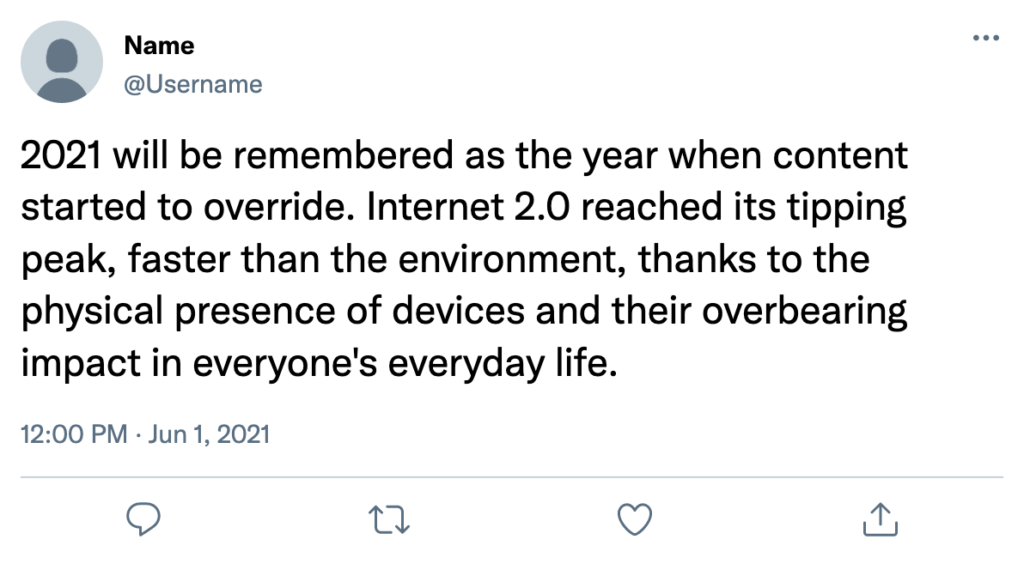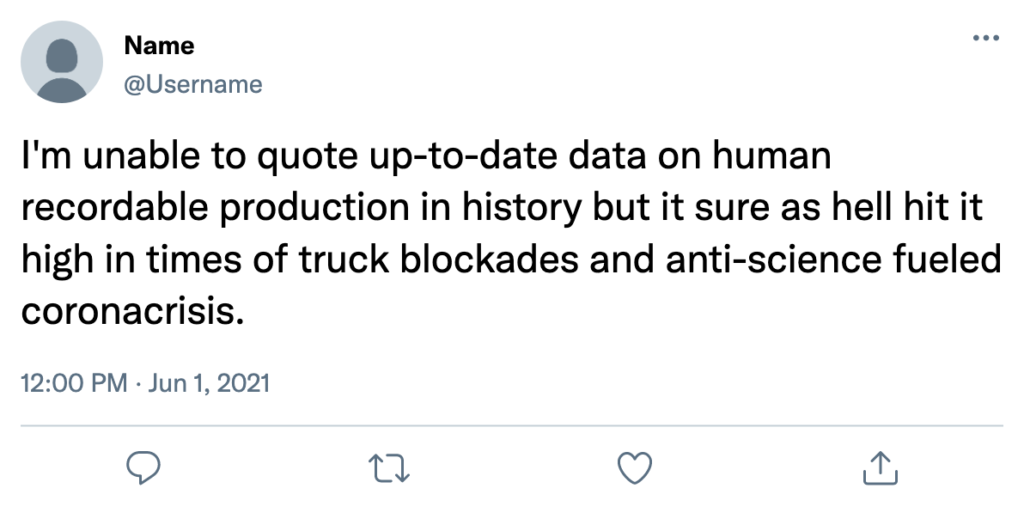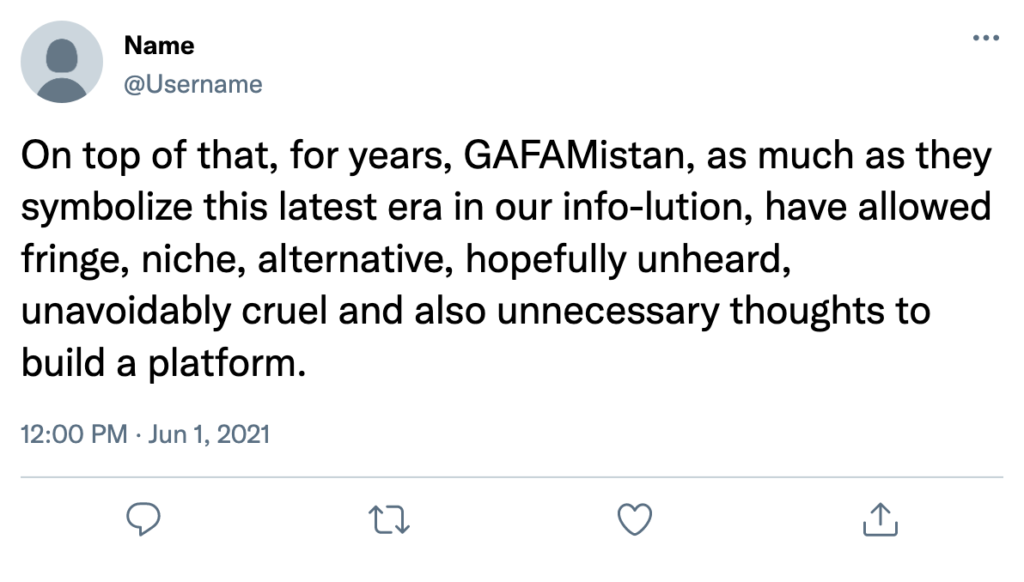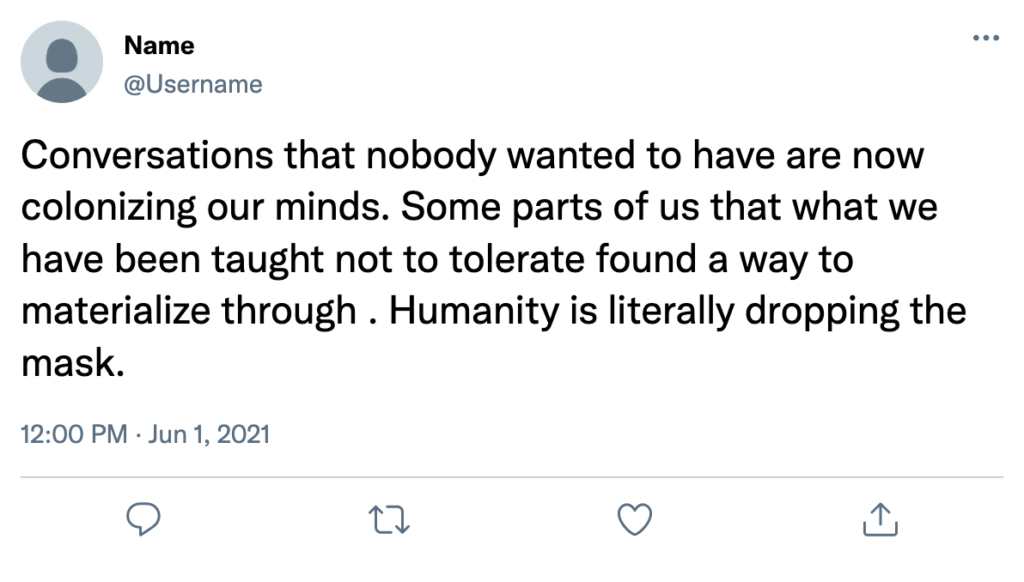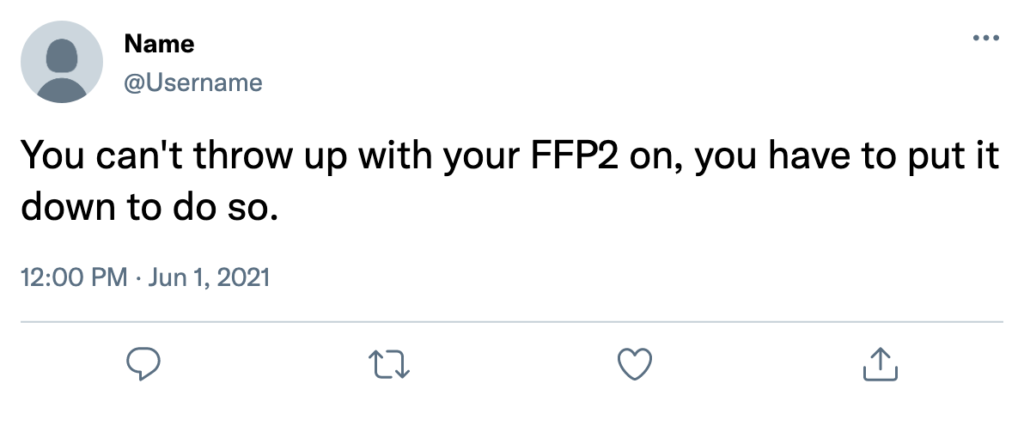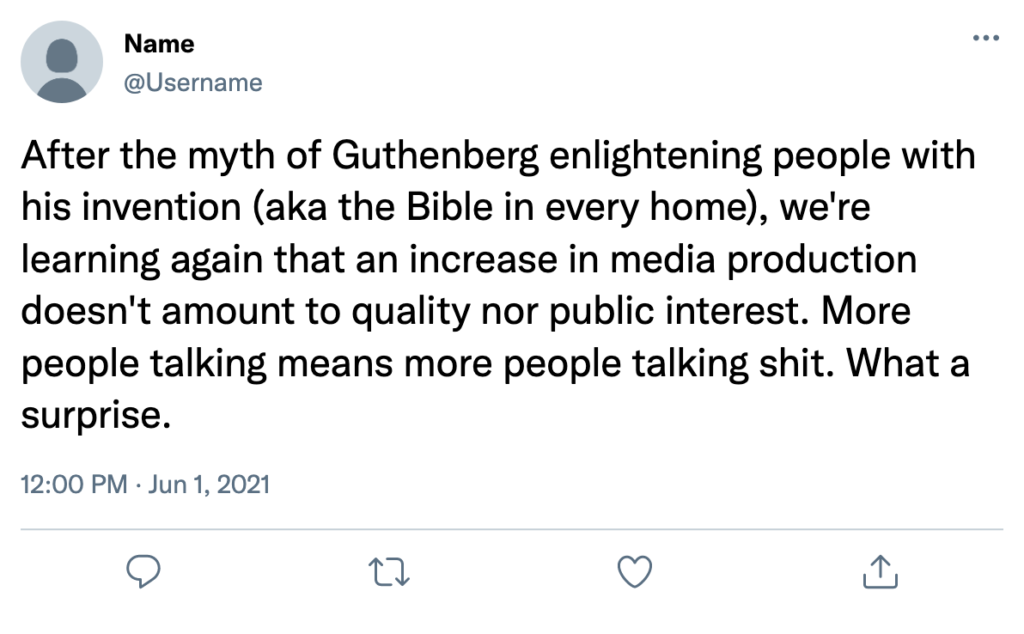 💿
CD COLLECTION
En 2021, j'ai (enfin) récupéré mes CD, après des décennies d'errance. Deux-trois mille galettes absolument pas classées dont je n'arrive à écouter superficiellement que les premiers tiroirs. Un peu comme quand je trainais au Virgin Megastore des Champs le dimanche après-midi au rayon des maxis au début des années 90, là où tout a commencé.
La satisfaction bassement matérielle de disposer de tant de musique me conviendrait-elle davantage que les possibilités infinies que Deezer et ses finalement rares surprises ?
La tête des gamins d'aujourd'hui : c'est possible d'avoir autant de CD ? A quoi ça peut bien servir ?
Je repense à ma fascination devant des discothèques de vinyles quand j'étais enfant, cette aspiration tripale, l'appel de la musique, du produit de tant d'expressions artistiques et d'individualités.
Comme celle devant toute -thèque : que ce soit dans la modestie d'une petite étagère pas forcément rangée, aux murs de la pièce dédiée qu'elle habille, minutieusement ou malicieusement ordonnée, sur le compte d'un abonné à un service de streaming ou dans les interstices mémoriaux et les ordonnancements empiriques de son/sa propriétaire, une collection reste le spicilège d'un goût, d'une sensibilité et au fond d'une âme.
[EDIT] Je viens de découvrir le scanner dans l'app Discogs, c'est parti…
Un univers. Un de mes multivers.
Voir cette publication sur Instagram
🤑
METAxNFTx

🕍⛩🕌🛕⛪️

Talking about parallel universes, what's the future like? Are we prisoners of our cognitive disonance or have the possibilities multiplied? Seems like… WAIT! We have something for you: it's called METAxNFTxVERSE. We'll haul you a remixed, avatared, blockchained, pixellated online experience of whatever you think you like and you'll worship us for it.

Boba Fett will never die.
Neither will Tokyo, nor your favourite K-Pop suicide idol.

You'll live their lives and deaths over and over, as much as you want.

Mr Big will be back in the spin-off prequel limited mini-series that might extend to a franchise when we know how to sell episodes made of whatever-comes-after-gifs to a qualifiied macho audience without alienating non-Chris-North identifying viewers.

Brands will be everywhere. Click the affiliated link for a discount.

There will always be a better version of yourself that we are able to sell to you. Subscribe here, it's free!
🤳
ROSADEILISHÈLE
Elle a effacé son profil, elle est partie, elle est revenue. Elle aussi : là, sur Netflix, plus là, re-là, sur Disney+. Mieux, plus belle, plus ceci, plus cela, plus t'as vu, elle a perdu des kilos, classe, elle montre son décolleté, hé oui, elle était pas comme ça avant, dis donc, elle se livre vachement, tiens, elle met des robes, dingue, elle est blonde, ah non, elle est brune maintenant, quand même, ce qu'elle raconte à Oprah, punaise, ça doit pas être facile dans ce monde de prédateurs du dimanche, week-end compris.
Ou malgré elle, prédatrice.
Demandez à Nina Simone, à Madonna, à Elza Soares.
Elle les ont tous niqués #whoruntheworld
🇧🇷
ELZA SOARES, REST IN POWER

💘

She was 91.

She suffered so much. She stood up for so long.

I knew her death would happen, it broke my heart.

Playpause wrote a lot about her. She was my favourite singer of all time ever, period.

What will a world without Elza Soares sound like?
We kind of already know. We survived all the female singers who never got their voice already.

We hear you.

Elza sang for everyone who had to fight. Sometimes for life, sometimes for love. Always sambando. In the end, it's all the same.
🧟‍♂️
LE ROCK EST MORT
Mine de rien, est-ce qu'on a << parlé >> de musique tant que ça ? Noyée dans ce dégueulis de contenus, elle accompagne la culture dans la débandade collective qui annule tout. Les vieux de la vieille annulent Spotify, Bono auto-annule U2, Charlie Watts annule sa tournée avec les Stones…
Essaie de parler de Prince à un Millenial, ça te donnera une idée de ce que veut dire chépacéki. D'ailleurs, son ixième album posthume était super super naze et il n'y a tellement plus rien à se mettre sous la dent que toute la presse a trouvé ça génial…
On ne peut pas se réjouir du fait que ce genre musical, au sens large, ne représente plus qu'une part ridicule de la conversation, hormis les Beatles grâce au Big Mac Get Back remont-r-é façon Godzilla (trop flashy, trop gras, trop gros), Muse (get back to the 1990s et restez-y) et Coldplay (get back to le néant et avec BTS steuplé)… Manque plus qu'une tournée de Bashung en hologramme et on sera au taquet.
Heureusement, le rock a beau atteindre sa date de péremption en même temps que les boomers qui l'ont vécu,  incarné et écouté, les voies ouvertes sont désormais des boulevards. Jusqu'à preuve du contraire, et à l'inverse des droits humains, toute conquête musicale est acquise. Il y aura toujours une rockeuse pour faire un truc qu'on n'attend pas d'elle, une emmerdeuse, une sorcière.
Tiens, remember la miction de Sophia Unista sur un fan pendant un concert : quelques gouttes urinées dans le vase de ceux qui disent qu'on ne peut plus rien faire.
Autrement plus classe, Patti Smith, en concert au Grand Rex peu après je-ne-sais-plus-quel redéreconfinement. 75 piges, mazette. Et elle finit en cassant sa guitare au bout deux heures d'un set impeccable.
Not dead en fait. De toute façon, on serait allé pisser sur sa tombe, au truc, never mind the bollocks.
C'est ce qu'ont fait Zahara et C. Tangana en 2021. Que suerte, le folklore global du monde hispanique prend la relève et génère des sons un tant soit peu analogiques dans l'océan des beatmakers tout en faisant basculer l'axe de London-New York à Madrid-Miami. Ils ont toujours envie de baiser, de danser et de faire chier pas mal de gens, sauf que maintenant ils chantent aussi le dérèglement climatique, le harcèlement et les haters.
De son côté franco-mondial, Stromae est revenu en mode combo schlager tropical, activant encore plus de boutons sur la manette pour exploser le boss de ce niveau caché de la pop que Madonna, Mirwais et Maluma (mine de rien) ont débloqué en  2019. Qui l'eût cru ?
🏴‍☠️
#unpopularopinion #DiscoIsDead
Disco revival helped us through the first waves of the pandemic, as a nostalgic way of coping with the loss of the parties that weren't. Distanced – in time – yet common, fashionable and marketable as fuck thanks to the all the imagery, sexy but prude on the WAP scale, full of transgenerational references…
Disco isn't the first crossover of (proto) queer voices, shouts and body expressions in the entertainment industry and then the mainstream. Yet its presence is simultaneously obvious and dated (more than gospel, blues or reggae), of course always pleasurable, hence its never-dying success.
Every other variety singer added a violin-overpowered hi-nrg spin to their songwriting and made a hit or an album out of it.
The best, glorious homage to a disco party will be Clara Luciani's Respire encore, at Les Victoires de la Musique… Great take on this era. Disco ain't dying cause it's breathing again.
(Waiting for good remixes 🥳🌈🙏)
👻

Musica disco non taedes
Ils ont bien essayé de tuer la disco, le disco, you name it, à force de sampler et de citer tout ce qui ramène à une piste de danse sur un élan corporel, une basse grattée avec les ongles et des violons qui violonnent, steuplé on n'en peut plus du beat sensoriellement bien qu'artificiellement parfait des mèmes TikTok, même à partir de tubes de boomer.
Tellement à rebours, ABBA est revenu comme un posse de fantômes, au son des voix aigrelettes de ces mamies déprimantes. Sérieux, une fois la hype passée, qui a vraiment trouvé ça, sauf mon respect éternel… mémorable ?
A l'heure tardive où j'écris ces lignes passe So In Love de Jill Scott avec Anthony Hamilton : que peut-on faire de plus 2011 que ça ? Pas si vieux, tellement une autre époque, et pourtant vas-y ça te fait décaler l'épaule, cligner le pied, voir un rayon de soleil là où la lampe de ton salon shine dégun… Il y a ce truc qu'on n'entend pas ailleurs et qui touche ce point particulier de l'aire tegmentale ventrale, aka le plaize.
C'est disco jusqu'à ce qu'iel meure.
🔁 
BACK TO TODAY
From the Abba requiem and disco samples to series remixing the Spice TLC Girls, via Aretha and Billie Holiday Oscar-Grammy worthy impersonations… Is it me or does this era keep on rehashing?
New step, H.E.R. makes an expected nod to vaporwave on her first album Back Of My Mind.
This viralcyberdigitalisticalidocious invention from a couple of years ago (or more…), it seems that the next generation has found a way to play around it in the twentytwenties sandbox.
Being a blogger for almost 20 years, a reader for about 40, makes me understand that every new media eats and digests past cultural stems, aka memes. Back then, we were sharing unheard gems. Today, kids seem to be repeating this, save they're dancing to them and they don't even notice it's the same song over and over, or is it?
The Internet redefined the concept of history: what is online is present forever, what isn't has neither past nor future.
🎤 
THIS IS THE VOICE
Trois voix m'ont ensorcelé en 2021 : Celeste, avec son album rétro et pourtant désarmant de fraîcheur, et l'autrement céleste Yebba. Mas o menos dans le même rayon et pourtant incomparables l'une à l'autre, deux bébés divas qui déroulent tout ce qu'elles peuvent dans ce monde saturé de chanteureuses de stade.
L'une et son grain qui fait le pont entre Rose Murphy et Amy Winehouse (tiens, deux drôles de filles que tout le monde adore maintenant qu'elles sont mortes), l'autre, virtuose sur des instrus aux échos également vintage, signés Mark Ronson et Kaytranada si tu veux du coucougnette-dropping. (Je raccourcis, elle compose aussi.)
Troisième voix (c'est pour voir si tu suis) : Akiko Yano, pas du tout une perdrix de l'année.
Tucépacéki ? Si je te dis que c'est l'ex-femme de l'adoré Ryuichi Sakamoto et qu'elle a été reprise par Pizzicato Five, tu te dis forcément ah oui, en même temps ça la réduit à un statut réducteur de zouze dans l'über-patriarcat nippon, malgré une discographie qui frise les 30 albums, complètement barrée et ahurissante et des collabs … Fais-toi ton idée sur Youtube, ya quasiment rien sur les plateformes de streaming.
Faut toujours avoir sur soi une Japonaise qui groove un peu VNR, toujours.
🇫🇷 
Bonus track

:

Marianne

,

etc

.

Puisque mes dernières compiles se terminent sur un live depuis #disconfinement, quand on ne pouvait écouter que de la musique enregistrée (tant qu'on n'en fait pas soi-même), finissons (presque) avec deux grands de la chanson, faut-il le préciser, de la culture française.

Pour faire chier les rageux, j'ai repensé à ces deux-trois-douze-mille bustes de Marianne un peu ou beaucoup la tête couverte d'un bonnet phrygien, ce symbole de liberté… Comme quoi.
💩
Bonus Track : Number two
La politique dans la musique se glisse aux endroits les plus improbables, loin des gros, impérieux et nécessaires, besoins d'Orelsan. Comme ce peu de moi qui m'a fait dessus inopinément, en Bluetooth, lors d'un transit aéroportuaire, pendant que je scrollais le tapis roulant des bagages et un fil de news apocalyptique suite au rapport du GIEC – Summer '21 collection – et à la capilotade afghane.
Une chanson scato, ça nous change des asmrismes arianabrunesques sur l'éther féminin. Avec son message si humble et intime, GiedRé a rendu ce moment d'attente absolument gai, hilarant et inoubliable.
Et puis, c'est devenu un hymne que je chante secrètement aux horribles personnages, dealers de haine et de bêtise, pendant mes commissions.
🇺🇦
Bonus track 3

: Sofia Rotaru – Ночь

The first draft of this post goes back to two weeks ago, as old bloggers do, so the overall relevance of everything you read or heard might seem and sound very, very out of touch.

So let's just play some Ukrainian disco and dance this long night away.
⏯
SEASON₴ELECT 2122
« Le XXIe siècle sera moyenâgeux ou ne sera pas. »
(André Malraux)
(cover design by Playpause, inspired by Elza Soares' Somos Todos Iguais)