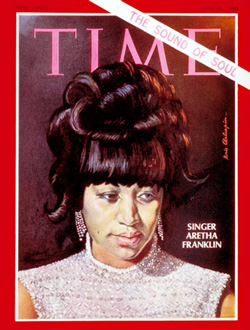 Love For Sale : la première fois que je suis tombé amoureux de cette chanson, je devais avoir à peine 20 ans, et c'est la voix hésitante de Jane Birkin qui me la chantait. Enrobée d'un arrangement naviguant entre quiet storm et soft porn, la plus-si-lolita de Gainsbourg interprétait à la perfection la perversion ingénue de cette pute qui ne demande qu'à faire son boulot, parce qu'elle est revenue de l'amour.
Les bras (les oreilles, devrais-je écrire) m'en sont tombés lorsque j'ai découvert (récemment) que la reine Aretha, l'oie blanche de l'Amérique noire, l'avait aussi reprise.
C'est la force du Great American Songbook , cette entité musicale et nébuleuse composée de standards variés et de variétés sans cesse revisitées (Rod Steward, si tu me lis…). Peu importe ce que les chansons de ce répertoire racontent : elles sont tellement familières, identifiées, reconnaissables que n'importe qui, homme ou femme, jeune ou vieux, peut les interpréter sans qu'on ne trouve quoi que ce soit à redire. Sing along, c'est tout ce qu'on te demande…
Pour en revenir à Aretha, celle qui ne s'est jamais mariée à Sean Connery malgré la légende des cours de récré de mon enfance, et à ce qui m'a frappé dans son interprétation de ce morceau, c'est qu'elle a su incarner toutes les artistes de sa génération : la petite pianiste boulotte et surdouée, la chanteuse de jazz romantique, la prêtresse gospel, la figurante de luxe dans The Blues Brothers, le rouleau compresseur Rock FM, bien évidemment la soulgirl, et même la diva des dancefloors avec des succès aussi discutables que Sisters Are Doin' It For Themselves, I Knew You Were Waiting (For Me) et A Deeper Love. Dans sa carrière plus récente, je chéris surtout A Rose Is Still A Rose, écrit par Lauryn Hill, qui avait réussi à l'époque (1999, tout de même) à concilier l'héritage quasi-séculaire de la Queen Of Soul et le son R&B du moment.
Et j'ai un lien vraiment particulier avec 'Ree, aussi, parce que c'est au son de son Best Of que j'ai passé ma première « vraie » nuit d'amour. Mais ce n'est pas quelque chose que j'irais confier à cette vieille dame pieuse et aujourd'hui malade…

Love For Sale : I listened to this song last night, while my iPhone was carefully picking excellent tracks on my way home, and I immediately fell in love with it again. It's taken from a 1992 repackaged compilation, « The Great American Songbook« . I didn't know Aretha had covered it until recently, and I must say that her interpretation is one of my favorites. Even Chet Baker's various versions don't match the quality of this one, simply because this particular Cole Porter song needs to be sung.
Aretha released it in 1965, when she was still a promising R&B act signed to Columbia. Her passion for Dinah Washington probably led her to record this standard and sing these (ahem) shocking lyrics: « Follow me and climb the stairs ». Considered originally as a scandalous piece, Love For Sale tells the story of a disillusioned young hooker who has no hope but to get the job done, upon a lighthearted and cheeky melody. All she has to offer is the « thrill of love »… But this is the magic of the Great American Songbook : everyone can perform any of its songs, fearing no backlash for open sexual invitations.
It is obvioulsy not one of Aretha's greatest hits, but it is surely another proof of her vocal abilities. This arrangement sets a lively pace that suits her vibrato particularly well, ending in an unusual off key and very jazzy finale. Aretha could do that too, and unfortunately, this lissomness wasn't part of the medley performed for her at Sunday's Grammy ceremony.
Instead, we had Christina Aguilera belting it out as loud as she could and Florence Welch trying hard to keep it up… Jennifer Hudson, Yolanda Adams and Martina McBride decently saved the number and justified Aretha's prerecorded thank you message.
I hope that, when the Queen of Soul dies, she will get the tribute she deserves and love for free.

Aretha Franklin – Love For Sale
(Picture from Time.com)