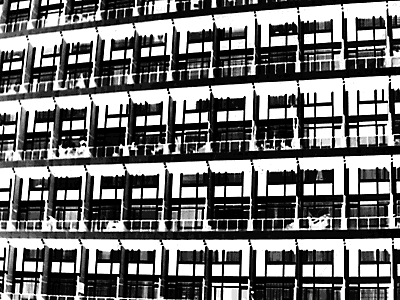 Je n'aime pas la musique industrielle. Je n'aime pas vraiment le rock, à cause des guitares électriques. Je n'aime pas trop les musiciens qui se prennent la tête à l'extrême ni ceux qui font de la musique qui donne mal à la tête.
J'aime les jolies mélodies. J'aime les instruments doux et clairs, qui sonnent comme des bulles de savon. J'aime les morceaux qui commencent en Arizona et qui finissent en pays inconnu.
Découvert via Blip.fm, Bourbonese Qualk. Combien étaient-ils ? Deux, trois ? Un peu plus peut-être ? On ne sait jamais vraiment combien de membres comptent les cellules secrètes d'agitateurs, à moins d'en faire partie. Et encore… D'ailleurs, Crab, le survivant du groupe, détaille sur son blog comment échapper à l'œil indiscret et inquisiteur du gouvernement britannique. Tête chercheuse, à l'affût, ce monsieur m'a aussi mis sur la voie des routes chantantes. Oui, oui, tu peux aussi faire de la musique avec tes pneus.

I don't like industrial music. I don't really like rock, especially because of the sound of the electric guitar. I don't like it when the musicians take it too seriously.
I prefer nice melodies. I prefer light and crisp instruments. Bubble, toy balloon and airship sounds. I prefer when the musicians tell me about the warm wind.
Recently discovered though Blip.fm, Bourbonese Qualk. Euro-quirky experimental-ish mutant duet which did not survive the death of Miles Miles, guitarist and founder of the band. Not all of it fits my ears, but thanks to Crab and other Bourbonese castaways, you can check freely their whole discography + live recordings on their gray – oh so gray – website. Also check this Stalker post to learn about singing roads. No, it's not about tying poor people down on the sidewalk and having them sing On The Road Again. It's physics.

Bourbonese Qualk – Gabardinak
(Picture taken from Bourbonese Qualk archive)