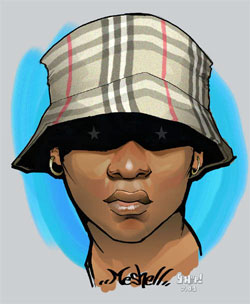 Une belle rencontre, qui dépasse le petit cadre de la revue de voix que je me suis lancé à moi-même… Me'Shell NdegéOcello (écrit comme ça, ou sans apostrophe) adoubée par Herbie Hancock… Back en 1994, elle débutait à peine, la petite, que les plus grands l'avaient déjà remarquée. Madonna, d'abord, qui l'a signée sur son label, Maverick. Prince, aussi, l'a courtisée quelques temps, et puis, ça a fait pschitt, comme dirait l'autre. (Quelques chansons pour les autres, mais bon, rien, quoi.)
Difficile de passer à côté, en effet : une noire américaine née à Berlin, musicienne brillante, mais aussi, personnalité engagée, bisexuelle notoire et mère d'un enfant. Pas deux mains gauches, pas la langue dans sa poche, pas le sourire en permanence, non plus, faut pas trop lui en demander.
Ses premiers albums flirtaient davantage avec la pop et les sons urbains (ah… le groove new jack de If That's Your Boyfriend (He Wasn't Last Night)), le dernier, Comfort Woman baigne plus ambitieusement dans le jazz et le dub, une certaine épure qui n'égale toutefois pas la grâce de Bitter. Son bijou, particulièrement recommandé, s'il ne devait en rester qu'un seul. En résumé, si on considère que le courant nu ou neo soul existe, c'est Me'Shell qui l'a inventé.
Sa voix est grave et nonchalante, tout comme sa basse est funky et nonchalante : une très forte énergie se dégage de cette artiste et de ses créations, interprétations, toujours zen malgré tout. Fortiche…

Me'Shell NdegéOcello had a real impact on me. I discovered her when she started out, back in 1993. Dredloc had everything : groove, soul, sensuality, a not-so-commercial approach. Her music writing stroke me, as did the vocal harmonies. The same you can hear on Nocturnal Sunshine, recorded with Herbie Hancock, Wah Wah Watson, Luis Conte… This happened in 1994, just a few months after her first album, Plantation Lullabies was released: she was already part of the big game. She never had the success her music deserves, though. She is not an easy personality, and never went into the showbiz race. I always thought she isn't American enough for the US audience. The first reason of all may be her place of birth, Berlin: can music buyers identify massively with a black bisexual woman born in Europe ?
The deepness in her voice is balanced by her mellow diction, her bass is at the same time caliente and laidback: music sounds easy to this woman. It's her language. She may be the living proof of Madonna's musical good taste, at least her label's, Maverick…
Her best work is Bitter, a delicate whisper of love and pain.
I'd love her to read me something to sleep.

Me'Shell NdegéOcello featuring Herbie Hancock – Nocturnal Sunshine
image taken from Urban Shogun