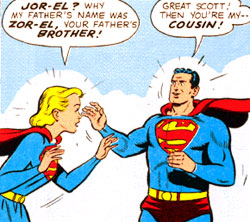 Piochages à gauche à droite, lectures croisées, je revue de presse pour canaliser ma logorrhée : je ne crois pas tout ce que j'écris.
– Gwen Stefani, dernières phrases avant les soldes. Lanterne sur l'obsédante question j'aime ou j'aime pas son album : Fluxblog. Je ne suis pas une fille, je ne peux pas comprendre cette musique girly.
– Euh, si j'ai bien compris ce que soul sides nous écrit, c'est qu'il suspend l'activité de son blog pour faire plein d'autres trucs. C'est un peu les boulettes, c'est lui qui a déterré en grandes pompes Oustide Woman, le (You Make Me Feel Like) A Natural Woman de Bettye Lavette. Bon, c'est pas grave, c'est la loi de le web, royaume de l'éphémére, chaos créatif. Découvert dans la foulée MOISTWORKS (merci the naugahyde life), qui célèbre aussi les grosses noires qui chantent fort : Message From The Soul Sisters. Aussi, Sticker Shock, pour Mallory Queen Bee Graham. Fonce !
– Mes enquêtes professionnelles me menant toujours aux frontières du web paranormal, je suis tombé sur cette citation. Joue avec moi : qui l'a prononcée ? à quel propos ?
(Ils) sont enclins à dominer le monde, et ils sont en train de rapidement acquérir les moyens de devenir la nation impérialiste la plus puissante que le monde ait jamais vu. (Ces) hommes ne se soucient pas des remous de l'opinion publique. Ils mettent le fusil avant le beurre, alors que nous mettons juste tout avant le fusil.
Non… Ce n'est pas Jacques Chirac, contre George W. Bush.
Un indice : Sting, Russians…
C'est la Supernana Margaret Tatcher, flippée par l'Union Soviétique. 1976, et les autres années marquantes d'une femme Barbara Gould : ici !
(Pas très portée sur le rasta, la Lady à Pinochet.)
– Une grande campagne de réhabilitation de Kylie Minogue est en cours (Technikart, Magic…). Envoie tes dons au Téléthon, non, à Band Aid, parce qu'après avoir lu ça, tu n'auras plus envie d'acheter le single charity de l'hiver britannique. Extrait :
Il est impossible d'écouter I Believe In You sans vouloir la remettre au début. Il est impossible d'écouter Do They Know It's Christmas? sans vouloir la mettre à la fin.
– Dernière girlie perle : C'est vrai qu'un air de jazz, ça donne vachement de classe à un ascenseur. (La Minute Blonde, virgule hautement humoristique du Grand Journal de Canal +) J'en ris encore…
Gros pied de nez, salto arrière pour aboutir à la sélection du soir : Miguel Bosé. J'avoue direct, j'ai un faible pour sa musique. Un truc honteux, mais je crois que c'est moins grave que d'aimer Dalida. Ce monsieur, à la carrière phénoménale d'un Patrick Bruel, est aussi une figure de l'entertainment latino : acteur, chanteur, animateur, il en a provoqué, des ruinages de culotte, depuis ses plus de vingt ans de carrière. Panaméen fils d'une italienne, il va présenter la Star Academy au pays de Berlusconi, après avoir triomphé dans l'hispanisation du concept, Operación Triunfo. La chanson protogay en écoute est un de ses premiers succès (si tu tiens jusqu'à la fin, achète-toi un pain au chocolat pour fêter ça), qui n'apparaît curieusement jamais sur ses compilations. Il en a peut-être honte lui aussi. Chochotte.

Some quotes from around the world around me. A way to fix my own opinions, which I may take far too seriously on this page…
– I now should understand the problem I have with Gwen Stefani's album. It's 'cause 'm not a girl, that's what Matthew Perpetua says : Though they never come out and actually say it, I think that the major problem that people have with this record is that it is intensely girly in a way that most people are conditioned to distrust. Men Mars Women Venus huh? Fluxblog, wordy and shiny.
– Shame… Seems that soul sides is having a break from his souldigging blog. Thanks anyway, Monsieur, for bringing on a golden plate Bettye Lavette's Oustide Woman. So I jumped on another page, via the naugahyde life : MOISTWORKS. James advocates the restoration of Vicky Anderson. James Brown used them. Hip-hoppers stole from them. Will these women finally get their due?. And, Sticker Shock, for Mallory Queen Bee Graham
– Let's play a game. Who said that ? What is it about ?
(…) are bent on world dominance, and they are rapidly acquiring the means to become the most powerful imperial nation the world has seen. The men in (…) do not have to worry about the ebb and flow of public opinion. They put guns before butter, while we put just about everything before guns.
Jacques Chirac? George W. Bush? Yasser Arafat? Dalai Lama?
Clue : Sting, Russians
Margaret Thatcher, on 19 January 1976! Against the Soviet Union. Full story here.
A heck of a girl.
– A cryptowebring must have been sending messages all around the world and now everyone writes good things about Kylie Minogue. This makes the whole british-top-Xmas-single debate hilarious. Should you hesitate between Kylie's new single, I Believe In You, and Band Aid's Do They Know It's Chrismas?, read at least this :
With 'I Believe In You', all artist royalties will go straight into Kylie's massive personal fortune. She may use the money to buy a nice dress. Only after that will Kylie consider buying some food – perhaps a 'croissant', if she's still doing the French thing. Kylie has her priorities in the right order.
– Last girlie shot. Seen on French tv: Elevators got definitely more class, with a jazz tune…
Ok so now, let's roll for the song: Miguel Bosé, Super Superman. With such lyrics, it's the vintage hit Britney Spears should have picked and covered instead of forgotten but not forgiven My Prerogative by Bobbi Blame Him For This Brown.
Can't you see I am your first fan ?
Teach me how to fight
Tell you how to dance zit all right
(…) How do you feel among the young men ?

Miguel Bosé – Super Superman