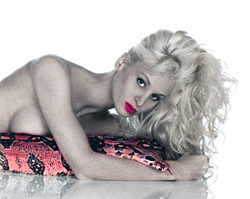 Jazz encore…
Voix de velours, humour caustique. Du Cap, en Afrique du Sud, à NYC, Oscar Brown Jr. reste une référence, avec son répertoire nickel : Work song, bombe rhtythm'n'blues, Brother Where Are You?, et The Snake. Cette chanson fait l'objet d'une petite discussion en ligne ici.
1870 : Rimbaud taggue « Merde à Dieu ».
1882 : Nietzche écrit « Dieu est mort ».
1960 : sortie de Sin & Soul d'Oscar Brown Jr.
Oscar Brown Jr. se fait l'avocat du Diable, le vrai, dans cette relecture de la Bible… Sur le chemin du boulot, une femme trouve un serpent transi de froid… Elle le recueille et le réchauffe. La nature profonde de l'animal est plus forte que tout, et la femme finit mordue, condamnée par le serpent narquois et dominateur. Misogynie ? Ironie ? Blasphème ? Les intonations du chanteur changent d'un personnage à l'autre, c'est un vrai conte… sans fée. On gagné Eve en échange, pas mal.
Il est de Chicago, ce jazzman pas très catholique. La ville d'Al Capone. Et aussi, là où les hivers sont rudes…

Ladies and gentlemen, another vocal performance! Oscar Brown Jr. the great jazzman, composer, entertainer, may come to place near you… He was in Capetown, South Africa, in NYC USA also !
Work song, rhtythm'n'blues bomb, Brother Where Are You?, et The Snake. Silk, silk silk… with energy !
In this last song, he tells the forverer tale of the saint and the sinner. The sinner wins. Eve gets bitten.
Sarcastic, Oscar Brown Jr. is also an infidel actor of the song : he takes different voices for the characters. It's the digest of a swinging musical. Here, you will read a little conversation about this jewel!

Oscar Brown Jr. -The Snake
(picture taken from www.chrissmithphoto.com)