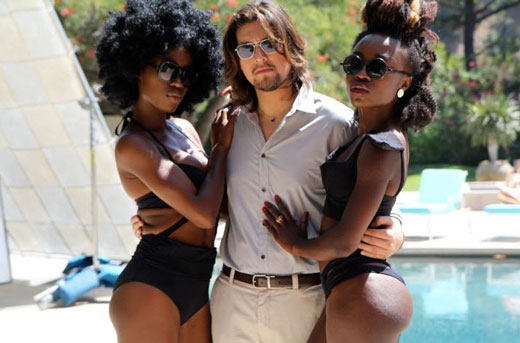 C'est décidé, il faut que j'intervienne. Bullshit police à l'attaque ! Je viens à l'instant de recevoir la newsletter de Mercury pour la promo de From Gainsbourg to Lulu, hommage du lardon au daron (on est loin de l'album dit « de la maturité »), qui commence par « On avait quitté Lulu, fils et dernier enfant de Serge en 1988, à 2 ans, lorsqu'il avait rejoint son père sur la scène du Zénith de Paris…« . Hé bien non, les gars, désolé, vous nous prenez une fois de plus pour des truffes.
Si ce disque est bel et bien le premier album du dernier rejeton du grand Serge, le « p'tit Lulu » a commencé sa carrière discographique en 2001, lorsqu'on célébrait les dix ans de la mort de Gainsbourg. Alors adolescent, il avait sorti un duo enregistré avec sa mère Bambou, une reprise (déjà) de Ne dis rien, créé en 1967 par Anna Karina et Jean-Claude Brialy.
Ça lui avait valu un peu de presse, ses premières séances photos, tandis que la douairière de Gainsbarre squattait les plateaux télé pour dire du bien du défunt et faire écran devant le fiston. Trop timide, trop embarrassé par la légende parternelle, trop à l'étranger (il étudiait la musique aux USA, si je me souviens bien)… C'était touchant, œdipien et vaguement sulfureux, mais oubliable. D'ailleurs, tout le monde a oublié.
Ce n'est pas la première fois que la promo autour des célébrations gainsbourgeoises s'empêtre dans une réécriture ignare et foireuse de l'histoire : début 2011, au moment de la réédition d'une intégrale de plus en plus intégrale, on nous avait fait croire à un inédit inouï, Comme un boomerang, chanson écrite en 1975 pour la participation de Dani à l'Eurovision, rendue célèbre en 2001 (anniversaire toujours) grâce au duo enregistré avec Etienne Daho. Sauf que le titre se trouvait déjà sur le CD bonus de l'intégrale paru en 2001 (sur lequel on trouvait aussi La noyée, qui sera repris quelques années plus tard par Carla qui n'était alors que Bruni, à grand renfort d'annonces trompeuses, pompeuses et pompières)…
Tout ça pour faire la promo d'un énième disque modasse de reprises mouligasses, sur lequel le fils à papa réussit l'exploit de chanter avec moins de coffre que Jane, Charlotte et Bambou réunies (et pourtant, je les aime, surtout la première), avec un tracklist qui néglige les presque 500 chansons pour retenir les sempiternels « jolis » tubes sur des arrangements tartignoles, et qui se fourvoie dans le people le plus neuneu (Scarlett Johansson, Ayo, Mélanie Thierry, sans parler du duo Vanessa Paradis / Johnny Depp sur la Ballade de Melody Nelson).
Justement, pour rouvrir le dossier Melody, on continue en anglais…

Dead Man 1 vs. Dead Man 2, who's the toughest, who's the bravest, who's the most scandalous, who's the one you'd rather revive? Funny how two posthumous projects involving chanson française legends have come out the same week. Or maybe it's not funny, it's just business: Serge Gainsbourg died 20 years ago, so the marketing has been intense.
On the left, we have the deluxe reissue of L'histoire de Melody Nelson, which has already been deluxe-reissued a couple of times. Whatever, this year, it comes with a great bonus: the Melody Nelson sessions. Alternate takes, instrumental versions (on En Melody, the unedited electric violin solo by Jean-Luc Ponty is quite something), rejected lyrics, even a unreleased track, Melody lit Babar. (This song is actually not 100% new to aficionados, since an instrumental adaptation for a Martini commercial was already featured on the bonus CD from the 2001 « complete works » boxset.) It is great to hear this masterpiece in the making, with Serge Gainsbourg's instructions to the studio engineer for example. And it reminds of how brilliant this album was, back in 1971.
On the right, we have L'homme à tête de chou covered by Alain Bashung, after the 1976 Serge Gainsbourg concept album. Originally recorded as Jean-Claude Gallotta's ballet soundtrack. I guess it was at first used during the rehearsals, as Bashung was supposed to perform his vocal parts on stage. But his solo works and his health condition prevented him from doing so, before his passing away in 2009. The show was a great success and its music caused much discussion, acclaim and wonder. Universal, record company and publisher for both artists, couldn't miss the opportunity of milking these two defunct superstars, so the 2006 tapes have finally found their way to digital and CD retailers for the macabre celebration.
Last year, I saw the show and was enthralled by the dance rendition of this noirish love story / crime of passion. Not being a fan of Bashung, I turned out to be also quite seduced by the adaptation: though very faithful to the original, it sounds sometimes like an imitation, sometimes like a softer, muffled version of Gainsbourg's « cabbage-headed man ». Now that the album has been officially released and that the memory of the performance has started to vanish, I perceive that some records by Gainsbourg are not intended for anyone else. L'homme à tête de chou is one of them, despite the overwhelming promotion and the beautiful Variations sur Marilou video. Who knows if Gainsbourg would have enjoyed the contemporary jazz fusion textures and light electronic interventions?
In 1982, they had collaborated on Bashung's Play Blessures,
which helped the rocker's popularity. But the album hasn't aged well
and isn't, to my ears, a proof of their artistic propiquinty. They had in common an iconic status, a poetry of their own, booze and chicks, nevertheless, their
music never touched the same audiences. Gainsbourg made it to the top list of
international pop wizards and influencers, Bashung « only » saved French rock. Good for him, but not good enough.
Dead Man 1 wins!

Serge Gainsbourg – L'amour à la papa


Serge Gainsbourg
(picture taken from All Pictures Media)