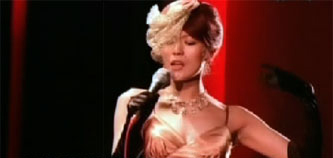 Ringo = pomme, en japonais.
Okonomi De me trotte dans la tête depuis que je l'ai entendue. Plus exactement, la version « jazz » (et vlan…) d'une des premières chansons de Shiina Ringo. L'original est un petit air pop, un peu grin-grin. La voix tremblante sur ce live, extrait d'un concert filmé en 2003, donne toute sa profondeur au morceau. Pas très facile à interpréter, pour sûr. La demoiselle est plutôt habituée à donner de la voix pour ses slows FM et ses daubes rock. Sa carrière au Japon repose sur quelques tubes, dont Gibbs, qui ne vaut vraiment pas tripette. La Jpop doit tout de même quelques perles à a plume de Shiina Ringo : Identity, STEM, La salle de bains… Son dernier single en date, Ringo No Atu, est le dernier tout court. Considérée comme un peu ringarde à 25 ans, elle interrompt sa carrière solo pour fonder un groupe : Tokyo Jihen.
D'un blog à l'autre, j'ai retrouvé la trace de cette chanson ici. Voilà à quoi mène l'abus de substances illicites : une page de toutes les couleurs.
Ce n'est pas à mon blog que ça arriverait.

Ringo = apple, in japanese.
Listen carefully to this song (lyrics here). It's not exactly Shiina Ringo's voice that raises interest, rather her lack of assurance when she performs, and the vibrato makes it all. The big band arrangement is also quite perfect. Hum.. Is this what you call « jazz » ?
As far as I know from her, she is a complex artist, who has been through very different artistic phases (bad pop, useless pop, interesting pop…) and she's only 25. Like the concert / DVD from which the track is taken, her latest productions are far more catchy than her first works, full of FM references that didn't bring much personality to the hits she had. Her influences are, among others, Claude Debussy, the Beatles, Marilyn Monroe and Radiohead… Today, Shiina Ringo doesn't seem to have the success she had a few years ago, and has formed a band with fellow musicians, Tokyo Jihen.

Shiina Ringo – Okonomi De (Live from Baishou Ecstasy DVD)