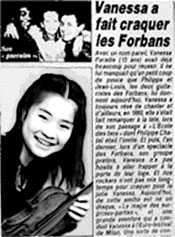 Entre ces trois jeunes prodiges de la musique actuelle, lequel préfères-tu ?
– Grégory, de Star Academy qui a dit ce soir : Je suis fatigué parce que j'ai un manque de sommeil.
– Mayuko Kamio, violoniste de 18 ans, récompensée par le Prince Rainier, qui a donné un énergique et frissonnant concerto de Mendelssohn samedi soir à la salle Gaveau, avec des poses de guitar heroin tout en tenant un Stradivarius de 1727 entre les mains, qui n'allait pas très bien avec sa vilaine robe écarlate…
– Vanessa Paradis, qui n'est plus une enfant maintenant. Mais qui a commencé jeune, qui s'en est mangé des vannes, qui ne s'en pas mal sortie et qui dorénavant boit du pastis dans le Var. Et qui a joliment chanté sur la BO d'Atlantis de Luc Besson. Time To Get Your Lovin', un white funk aux frontières de l'ambient qui n'a pas si mal vieilli.
Faut-il relire l'oeuvre d'Eric Serra comme étant celle du William Orbit français ?

Between these three young music phenomena, which one is your favorite ?
– Grégory, Star Academy contestant and Celine Dion connoisseur, who said tonight on TV: I am tired because I have a lack of sleep.
– Mayuko Kamio, 18 year old violin player who wins it all, who performed as a wild fiddle heroin Mendelssohn's Concerto in E Minor, Op. 64 at Gaveau, in a comfy but terrible scarlet dress, right under my eyes, last saturday…
– Vanessa Paradis, not as young as she used to be. But she started in her teens, in my teens… Nice carrier, should be a little more active. Performed this white funk, blended ambient grooves, for Luc Besson's Atlantis.
Love the dim dam dum badam doo-ah in the middle.
L'image originale vient de là.

Eric Serra featuring Vanessa Paradis – Time To Get Your Lovin'