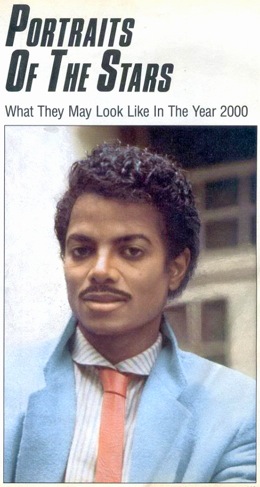 MICHAELJACKING [maɪkəldʒækɪŋ]
n. m. (XXe siècle, de Michael Jackson, 1958-2009, vedette de la chanson noire, puis blanche, également célèbre pour son mode de vie dispendieux et ses supposées pratiques pédophiles).
Le fait, pour l'entourage personnel et professionnel d'une célébrité, de ne pas intervenir dans les choix personnels et professionnels de cette célébrité afin de tirer plus de bénéfices de l'exposition médiatique engendrée par les rumeurs, les échecs et les actes condamnables que de ses succès, de son vivant mais aussi à titre posthume.
Voir aussi : ladydisme
Ici et là, j'ai déjà eu l'occasion sur playpause de dire ce que je pensais grosso modo de ce monument pipolo-musical. L'hystérie prévisible qui a entouré sa mort et le soudain intérêt que j'ai ressenti sont déjà un peu retombés.
Mais la saga MJ ne fait que commencer et c'est pain bénit pour tous ceux qui ont vécu sur le dos de la bête (de scène) jusqu'à sa mort : sa famille, son entourage professionnel, les médias, les maisons de disques, tous ont déjà sauté sur l'occasion pour s'enrichir un peu plus, sans s'arrêter une seule seconde pour se demander s'ils ne sont pas responsables, complices actifs et passifs, de sa déchéance visible et déplorable… Avoir raté sa vie personnelle fait-il de lui un plus grand artiste ?
D'un point de vue astronomique, le King of Pop aura été une étoile comme une autre : après avoir brillé, il s'est ratatiné sous la forme d'une naine blanche avant de s'effondrer… Et le selon le cycle de l'évolution des étoiles, vient ensuite le dernier stade : la naine noire.
Comme quoi, malgré toutes les opérations que tu t'es infligé, tu aurais dû le savoir, Michael, on n'échappe jamais vraiment à son destin.

Michael Jackson invented almost everything about contemporary superstardom, from music video to tabloid fueling. But he never second guessed that his show business genius would burn him out and that he wouldn't be the one who would make the most profit out of it. The michaeljacking started when he was a kid, with his father, and carried on until his death: managers, lawyers, doctors, housekeepers, reporters, drug suppliers… everybody in the King of Pop's circle made a living out of him, his talent and his painful oddities. And it seems, as far as we know, that nobody was ever able to make a real intervention and help this poor man live a better life. Support the person or spur on the persona, there was the dilemma.
Now that he's dead, let the ladydism begin, and the crooked celebrity is slowly turning into a sanctified icon. Classic rehabilitation for a seriously ill guy, who liked to play nice in front of the cameras and scream « I Love You » when it was obvious that he didn't like himself. I'm sure, though, that we'll get sick & juicy stories in the coming years. And like Marilyn Monroe and Elvis Presley, each of his missteps will finally get an explanation, a justification and finally an excuse.
Astronomically speaking, Michael Jackson was just another star: the bright and shining hypergiant consumed all its energy, collapsed into a white dwarf and died. Which leads us to the final question: do dead stars still shine?

The Jackson 5 – Dancing Machine (Miami mix)
(Picture from Ebony Magazine, 1985, via Orangehouse)
Check also RANTChick